On Monday, March 6, the 14th Annual Empire State Plaza K-8 Student Art Exhibition opens, containing artwork from 11 RCS elementary school students. Presented by the New York State Office of General Services, the Capital Area Art Supervisors group, and the New York State Art Teachers' Association, the exhibit will run through Friday, March 24, and is taking place in the South Concourse at the Empire State Plaza.
The art show runs in conjunction with Youth Art Month, a month used to celebrate and recognize the many forms of visual art and art education. This show will kick off the youth art celebrations at RCS schools during the month of March!
This event is the only Capital Region exhibition for students in kindergarten through grade 8. The collection contains 92 pieces total and showcases artwork created by students inspired by the Empire State Plaza Art Collection. The students and their families are invited to attend the Opening Reception on Thursday, March 16, from 5:30 - 6:30 p.m., and it is open to the public. All are welcome to attend!
A.W. Becker Elementary School has the following students participating in the show: Madeleine Summers, Mikayla Pagan, Alyssa Krantz, Amina Ali, Claudia Button, and Westin Mahon.
"Our projects were inspired by Colleoni II by Jason Seley, which is on display on the ground floor of the Corning Tower," said A.W. Becker Elementary School Art Teacher Ms. Esmond. "Each student chose their own subject, which was sculpted in relief, 'chromed' using aluminum foil, and painted using tempera and watercolor. They came out beautifully! The students are so excited to be able to have their artwork on display, and we are proud to have them representing RCS!"
Kayla Beazley, a 5th-grade PBC student who has been a student of Ms. Chriss's for six years, used Mixed Media of watercolor, tissue paper, pipe cleaners, and construction paper to create her artwork for the exhibition. Her mosaic-like work was inspired by Alvin Loving, New Morning I. Eva Pasquini, a PBC 4th grader, used brilliant, stunning color in her Mixed Media of crayon and Sharpie marker in her adaptation idea that was inspired by Alvin Loving, New Morning I. She is excited to have her artwork displayed in the exhibition!
Sophia Polec, a 4th grade PBC student, used Paul Jenkin's Phenomena: Mistral Veil as her inspiration for this splattered acrylic paint, cut paper, and netting Mixed Media bird image artwork. Sophia's opportunity to have her artwork displayed in the exhibition is an honor! Nevaeh Perea, a 2nd grader at PBC, was inspired by Larry Zox's Gemini Series I for her Mixed Media artwork made of painted paper and cut construction paper. Nevaeh is thrilled to have her work on display in the exhibition. Anthony Latter, a 1st grader at PBC, used Jason Seley's Colleoni II for his inspiration to create his Mixed Media, q-tips, glue, and foil artwork. This exhibition is the first time Anthony has had the opportunity to have his work publicity displayed.
If you have some time, you are invited to stop by and view the work of some of our talented students or attend the reception! Huge congratulations to these students on all their hard work and this impressive accomplishment! Click here to view the show poster.
RCS students will also be involved in a local art show in the coming weeks. Stay tuned for more information!
Mixed media by Anthony: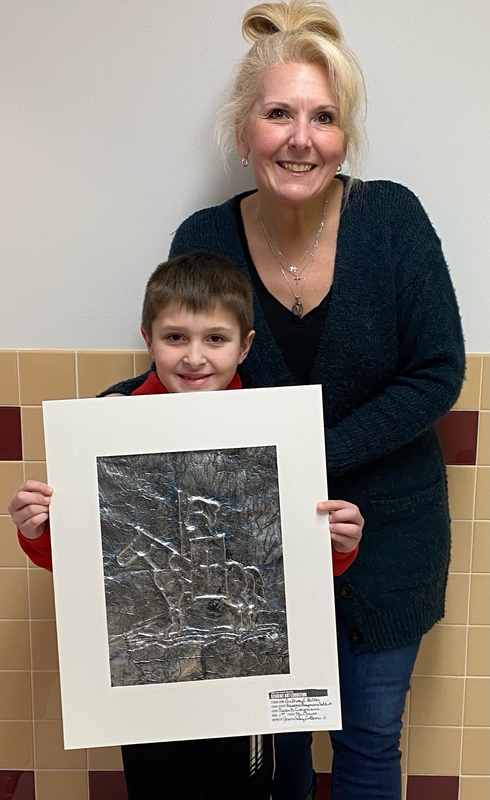 Mixed media by Nevaeh:

Mixed media by Eva:

Mixed Media by Sophia:

Mixed Media by Kayla :

AWB Students & their work: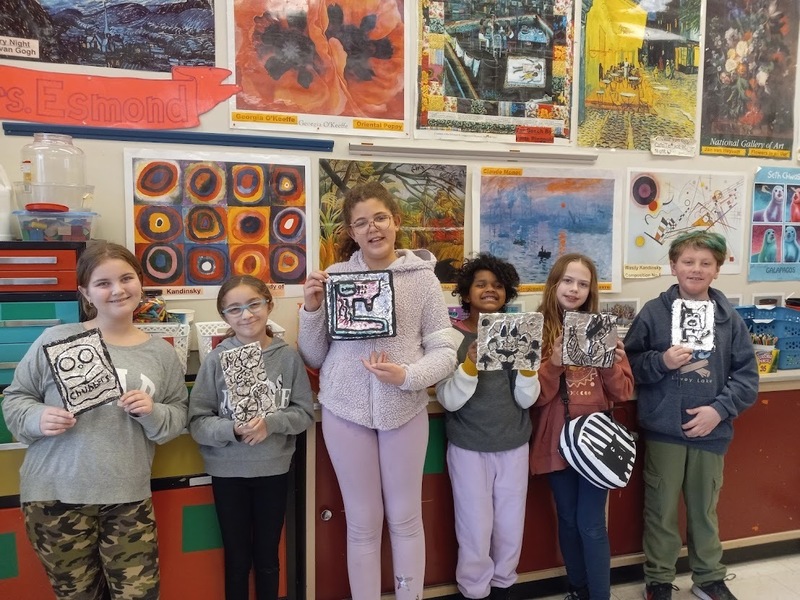 "Wolf Dog" by Westin: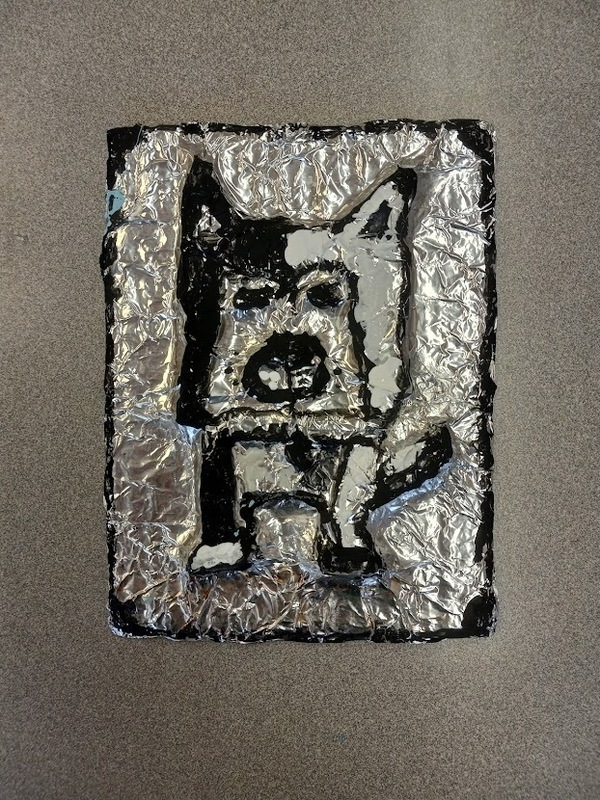 "Untitled" By Mikayla: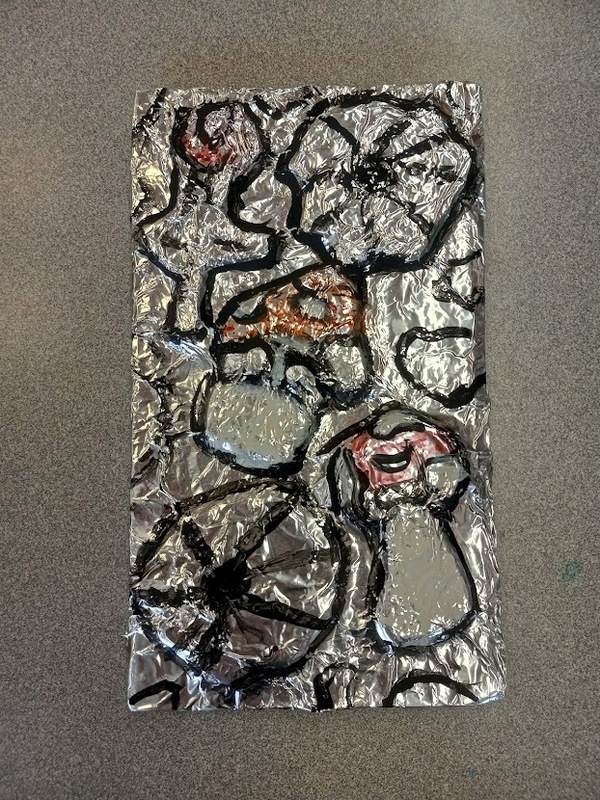 "The Button Machine" by Madeleine: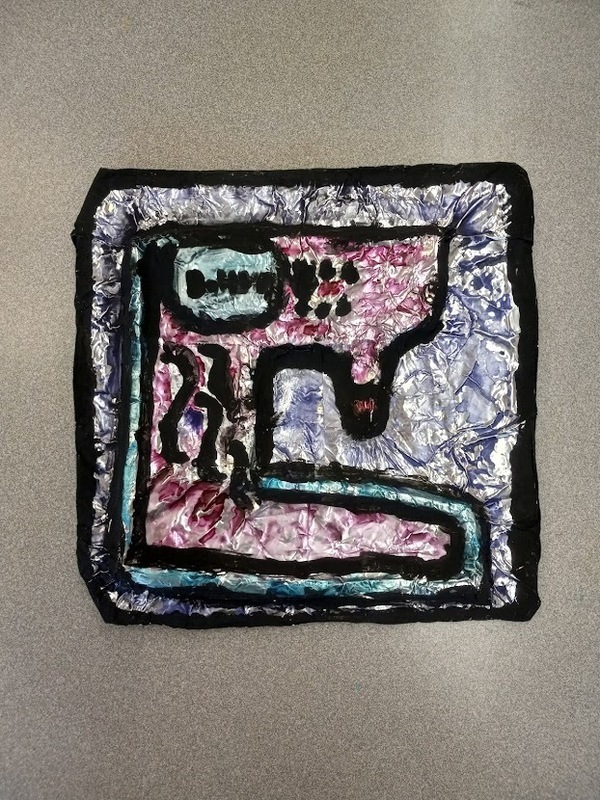 "Mika the Butterkat" by Claudia: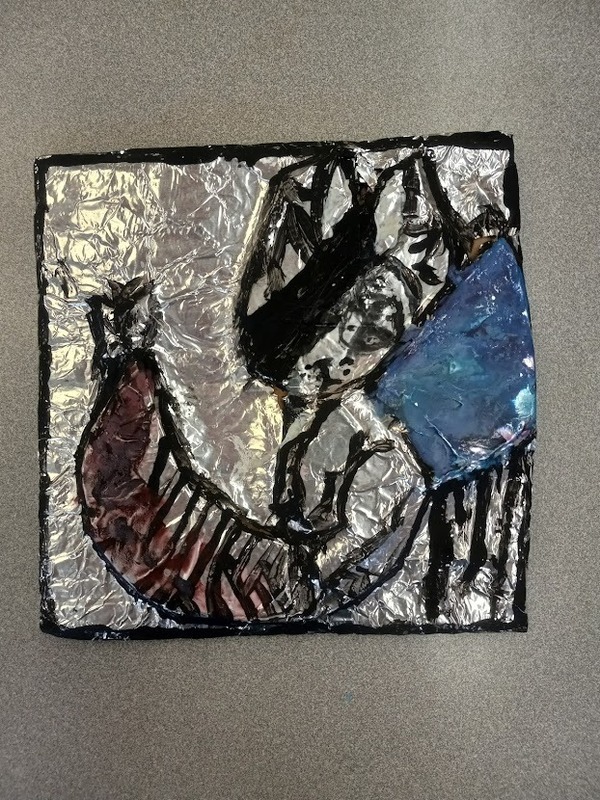 "Demon Fairy Flower" by Amina:

"Chubbers" by Alyssa: