On Thursday, March 18, representatives from Slow Food New York State and Questar III joined district officials in presenting a check for $1,500 to support healthy food option programs at A.W. Becker Elementary. The donated funds will go directly towards assisting the district's ongoing efforts to continue a school wide Project Based Learning curriculum and campus garden.
"We are fortunate to have community-based organizations support these programs in the RCS District," said A.W. Becker Elementary Principal Neubart. "This program will allow for our students to realize the importance of healthy food options, while learning about local vegetation and the importance of nutrition. A special thank you goes to Slow Food New York State and Questar III for their continued support of this project on our school campus."
According to its website, Slow Food New York State works to educate consumers through like-minded partnerships with the region's culturally diverse advocates who believe in a just food system that is environmentally sustainable, and increase the ability for all New Yorkers and neighbors alike to provide, consume and promote good, clean and fair food for all. To learn more about Slow Food New York State, click here.
The district will utilize the donation in the coming months to create a special area on the school campus to highlight nutritional programs and connect that effort with today's classroom. Stay tuned to the conversation by following the A.W. Becker website for news and updates, as our students continue to achieve their goals through this unique and fun program.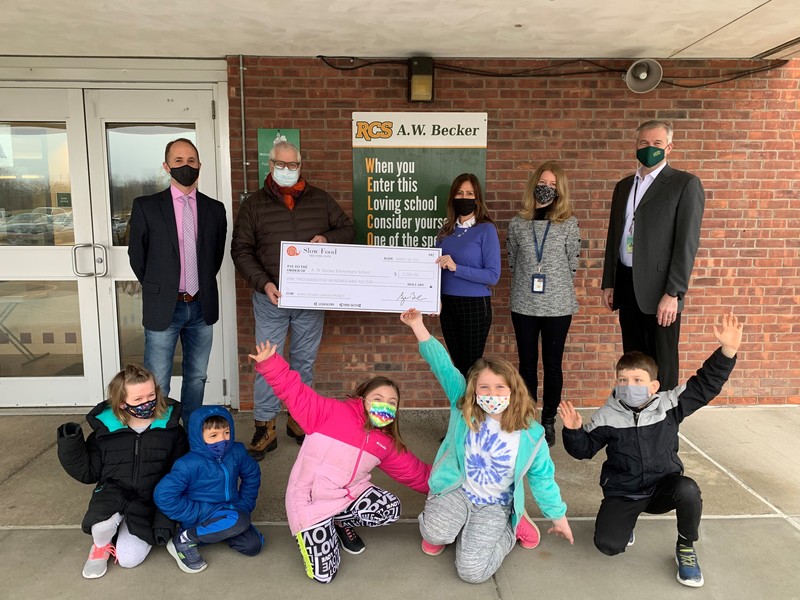 Photo from left to right: Questar III Director of Special Initiatives Jim Church, Slow Food New York State Governor — Upstate Pierre Friedrichs, A.W. Becker Elementary Principal Mrs. Neubart, A.W. Becker Project Based Learning Instructor Ms. Thibault and RCS Superintendent of Schools Dr. Bailey. Front row: A.W. Becker Elementary School students.