On Sunday, April 11 at 4pm, RCS senior student-musicians Jared Lamson and Tyler Levine will be performing in the New York State School Music Association (NYSSMA) 2020-21 All-State Symphonic Band Virtual Concert! Each year, thousands of student-musicians from across New York State compete for the opportunity to be selected to the prestigious All-State instrumental and vocal music ensembles. The RCS District is proud to have two students participate in this year's virtual statewide event. Want to watch? The virtual concert will be available for viewing on the NYSSMA website.
Jared has been playing clarinet since fifth grade and has been taking private lessons since seventh grade. In addition to playing in the RCS High School Band, Jared is currently a member of the Empire State Youth Orchestras (ESYO) Symphony Orchestra. This past August, Jared participated in the Juilliard Summer Winds program--a highly selective two-week intensive online program that included master classes, clinics, and lectures alongside student-musicians from across the country and was led by college faculty members of the Juilliard School in Manhattan. As part of the program, Jared took lessons with the world-renowned musician Anthony McGill, who is currently the principal clarinetist of the New York Philharmonic. This year Jared has been preparing for college auditions as he pursues a dual degree in music performance and biomedical engineering.
When asked about this great achievement, Jared said, "I am glad to have the chance to participate in an ensemble as prestigious as the All-State Symphonic Band, even in times as uncertain as the ones we are in. I cannot thank the RCS music program and my own private instructor enough for opening up a world of musical opportunities available to me."
Tyler has been playing trumpet since fifth grade, taking private lessons since ninth grade, and has also been playing and studying piano since age 7. In addition to playing in the RCS High School Band and Jazz Ensemble, Tyler is also a member of the ESYO Symphony Orchestra. This March, Tyler performed with the New York State Band Directors Association (NYSBDA) Honors High School Band and this spring was named a recipient of the Semper Fidelis Music Scholarship presented by the Captain William Dale O'Brien Detachment of the Marine Corps League. Tyler is looking to pursue a career in the medical field while also keeping music a big part of his future.
"I would like to thank my parents, teachers, and the RCS Music Program for giving me the ability to be in as many music groups as I possibly could throughout my years in RCS," Tyler says. "Without the many opportunities that I have been given to play music and experience different types of musical repertoire, I wouldn't have had the chance of playing in this prestigious ensemble."
"The opportunity to announce Jared and Tyler as All-State musicians brings great joy and pride to their teachers and I," says RCS High School Band Director John Fatuzzo. "Both Tyler's and Jared's involvement in and commitment to making music at a high level both in and out of school are commendable. Their acceptance to an All-State ensemble is the result of many hours of hard work and dedication to one of their passions. We could not be more proud of their efforts and accomplishments!"
With this past winter's cancellation of the annual NYSSMA Winter Conference due to the COVID-19 pandemic, Jared and Tyler participated in the All-State ensembles in a virtual format. NYSSMA will be premiering a virtual concert of all the All-State ensembles later this month. This school year marks the first time since 2015 that more than one RCS student has received an All-State selection and the first time in at least 30 years that more than one RCS instrumentalist was selected to an All-State ensemble. Both students were publicly recognized at the December 2, 2020 Board of Education Meeting for their achievement.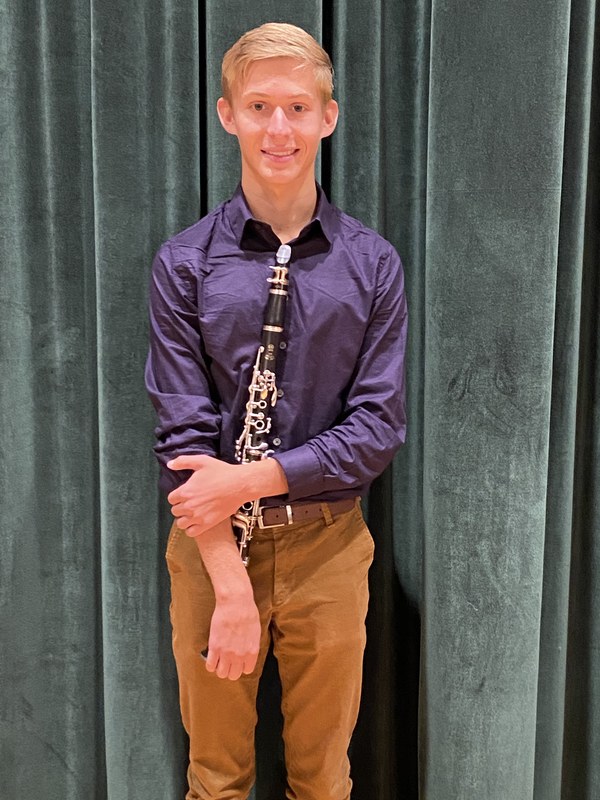 Pictured above: Jared Lamson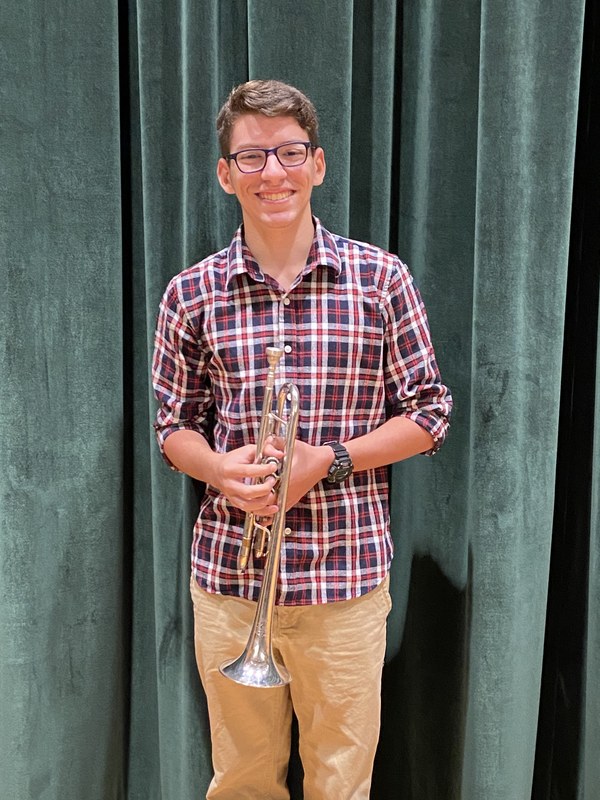 Pictured above: Tyler Levine