In celebration of the important work that our RCS teachers and staff do all year long, we will be continuing our 'Feature a Teacher' segment that shares the stories of our educators through the end of the school year. Today, we highlight Ms. Wallace and her work to bring art to RCS students during a pandemic.

Meet Ms. Wallace
Teaching during a pandemic can prove difficult, even for the most experienced of teachers. During this year, and almost half of last year, teachers have had to overcome a multitude of issues in order to perform their job. Today's teachers have had to deal with technology issues, balancing cohort schedules and sometimes having to strategize within the one-on-one principles that make teaching so important. How do you change gears to continue to provide an impact for students? Teaching art and working to engage students falls into that category. At the RCS High School, we are fortunate to have Mrs. Wallace push forward with art instruction for students at home and in school.
Mrs. Wallace has an extensive background in art. She is a Class of 2006 graduate of the State University of New York at Plattsburgh majoring in visual arts with a focus on photography. After graduating, she attended the College of St. Rose to obtain her master's degree in art education. In the fall of 2019, she began her career in the RCS District. She continues to interact with her students to keep them learning and enjoying art, whether it's delving into art history, drawing, painting or photography. She's proving that interactive instruction is making a difference.
We are sharing her story as part of the district's 'Feature a Teacher' series. To learn more about her work in the district, follow her Q&A:
How has COVID-19 impacted your instructional process with students?
When you first come into the classroom, it looks a little different. We are no longer at tables with a pile of materials in the middle and some students are joining us for instruction online. Fortunately with the support of the students and district we are still able to create, explore, and build our skills just like we always have by utilizing Art Kits. Each student has their own kit with a variety of pencils, papers, colored pencils, paints, blue tape, and anything else they might need. Students bring materials with them to class for either in person or online instruction. These kits have allowed students to utilize new skills, practice techniques, and continue making artwork. Technology has helped with the instructional process as well. I sometimes record demonstrations, but have found most success using a document camera. This allows all students to see up close the medium I am working with. Students are able to collaborate and share their work during Google Meets which is an important part of class. Even though the instructional process looks different this year, I am proud to say that our students are not missing out on the process of making or sharing their artwork.
What types of art are RCS students enjoying during this school year? Anything that surprises you?
This year students are utilizing a variety of media including watercolor, colored pencils, charcoal, photography and graphic design. It has been wonderful to see how each student can connect what we are working with to their own experiences and ideas. Students have really been enjoying projects where they can include part of who they are into the piece. In Photography students took a selfless self portrait where they took a photograph of something that represents who they are. Studio in Art is currently finishing an assignment where they chose lyrics from a song they find meaningful and illustrated them. I am very impressed with their ability to balance their skills and knowledge of the visual arts with their own interpretations and creativity.
As a curriculum, how are you looking to develop the art program at the RCS High School?
We are very fortunate as a district to have such strong Visual Art programs at the elementary and middle school level. Students begin their high school art journey with a strong foundation of the arts and skill set. Students start their high school art career with Studio in Art which covers a variety of media, art criticism, and art history. Students work with drawing materials, paints, ceramics, photography, printmaking, and graphic design. This is a great opportunity to explore different interests and earn credit for high school graduation. After Studio in Art students can choose to move forward in Drawing and Painting, Ceramics, Graphic Design, and/or Photography. Beginning next year we will also be offering AP Studio Art 2D Design where students can earn college credits. My goal is to develop a program at the high school that will benefit all of our students. Some students might enjoy taking one or two art classes. Other students might want to continue with a career in the arts and utilize their time here to take many courses and put together a well rounded portfolio. If students are interested in Art and cannot fit in a class we also offer Art Club and Photography Club, along with National Art Honor Society. We also have an Artist of the Month program where we highlight a student and their artwork.
Finally, why do you enjoy teaching art?
There is so much I love and enjoy about being an Art Educator. Art means different things to different people. Students are learning the same information and using similar materials, but can interpret it differently. It's incredible being able to watch students grow as individuals and Artists. I enjoy helping students find different ways to connect to their projects. I also find that through the relationships I have built with students, I learn a lot from them as well.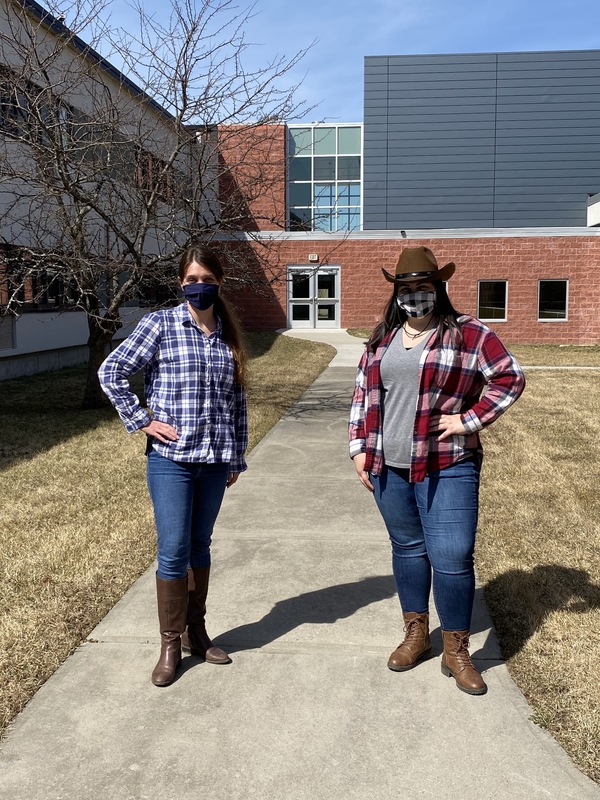 RCS High School Art Teacher Ms. Wallace with Ms. Cole (left to right)