Dear RCS Families & Staff,
Spring has sprung, and our staff and students are now beginning the much-awaited spring recess. Spring brings a fresh sense of new growth and opportunities to our region. Many events have already been taking place around our campuses, and we could not be more excited for what the next couple of months hold before we conclude a successful school year.
Before you go out to (hopefully) enjoy the sun for the week, we wanted to highlight some exciting events, programs, and awards:
RCS has received the Best Communities for Music Education Award for the fifth consecutive year!
Although Music In Our Schools Month has come to end, our student musicians are busier than ever! Just this week we received the Best Communities for Music Education Award from The National Association of Music Merchants (NAMM) for the fifth year in a row! This honor is awarded to schools that demonstrate outstanding commitment to music education while exemplifying outstanding achievement in their efforts to provide music access and education to all students.
The process was particularly rigorous this year, as in addition to the usual very thorough and detailed questions about the music program, there was an extensive look at how we handled the challenges of music education during the pandemic. We are incredibly honored to receive this award, which we would not be able to receive without our amazing students, Music Department, teachers, staff, RCS Friends of the Arts Group, and community. Huge thank you to everyone for their dedication and support!
In addition to this achievement, the NYSSMA Festival season is in full swing. Stay tuned to learn more about our NYSSMA performances!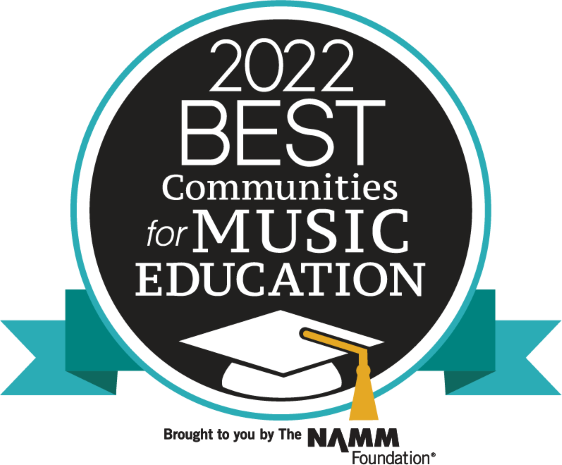 Spring Sports have begun!
Spring is here, and spring sports at RCS are well on their way! Students athletes and coaches have been giving it their all these past few weeks as they prepared to start their season. The spring season runs until the end of May and the community is invited to come out to support our athletic teams throughout the season.
From track meets to softball games, and everything in between, RCS student-athletes continue to positively represent the school in their respective sports. Their teamwork, dedication, sportsmanship, and hard work are evident as they leave it all on the field. If you are interested in coming out to support our athletic teams, click here to find the schedule for games.
Good luck to all of our teams on their spring season!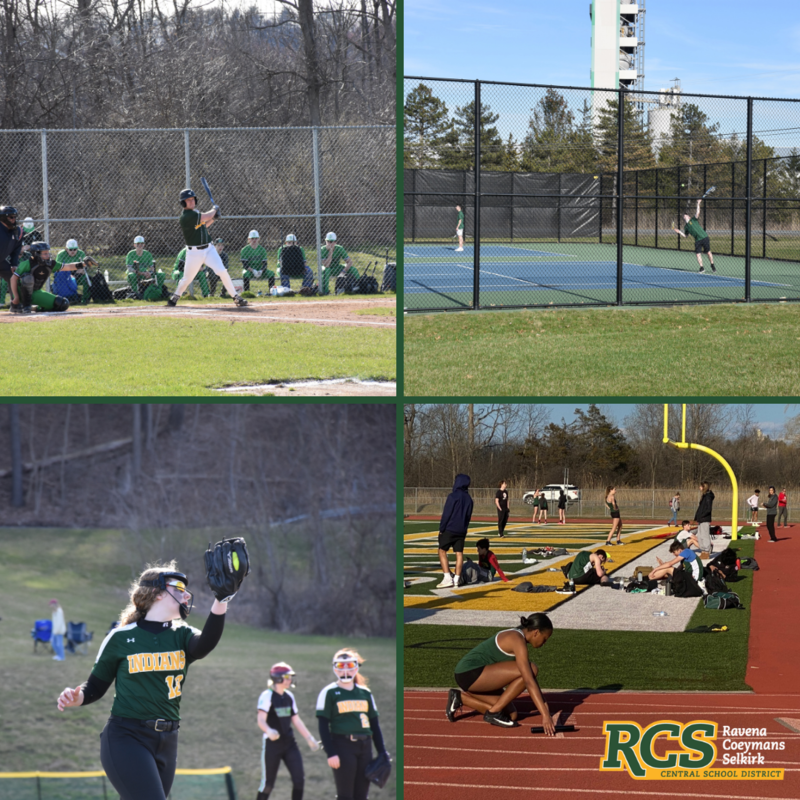 RCS to Host Operation Recognition to honor Veterans with High School Diplomas
The Ravena-Coeymans-Selkirk Central School District is proud to partner with VFW Auxiliary Post 9594 and Unitas Memorial Veterans Association to present high school diplomas to those Veterans who exited school without graduating. Many Veterans had to leave school early to defend the United States in ongoing military conflicts during the time they were supposed to be finishing high school.
Operation Recognition, created by Section 305 of New York Education Law, recognizes the devotion and sacrifice of all Veterans who left school early by presenting them with a high school diploma. The RCS Central School District and our partnering groups want to take this time to honor, appreciate and celebrate our RCS Veterans' by presenting them or their surviving families with a diploma from the Ravena-Coeymans-Selkirk Central School District.
The event will be held on Saturday, November 5, 2022, at 10:00 a.m, in the RCS High School Auditorium. Please click here to see the poster for the event.
If you know a Veteran who might qualify or have any questions, please contact Lisa Foronda Schmitt at operationrecognitionrcsvfw9594@gmail.com or (518) 469-3562.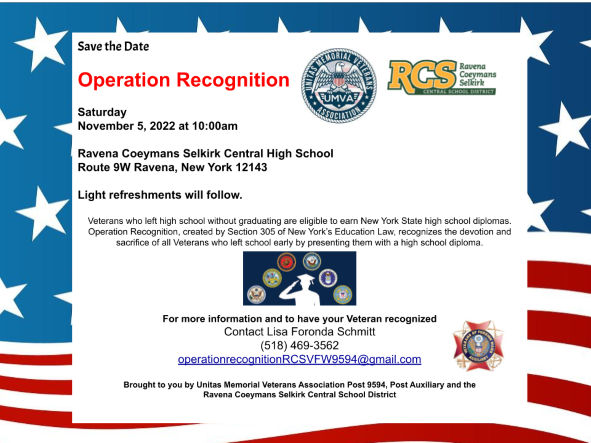 Have a restful and rejuvenating spring recess with your families and friends,
Brian Bailey, Ed.D
Superintendent of Schools
Direct Links: